May 29, 2012 8:26 pm
Last week was my favorite person in the whole world's birthday.  I wanted to make my husband something really special for his birthday. I decided that since a bunch of us teamed up to buy him a lens for his camera, it was only appropriate to make him a cake of his camera – the Canon 7D.
The cake is chocolate cake with a coconut chocolate frosting.  It was 4 thin layers of cake with lots of frosting in between layers. I only made the body out of cake and I made the lens out of rice krispy treats.   I secured the lens onto the body using 3 wooden dowels so it floated nicely and defied gravity. I covered the entire cake in black fondant.
The best part of this cake was all the details.  I made tons of buttons, the viewfinder, dials… lot of fun.  I finished all the silver and gold using luster dust mixed with vodka to create an edible paint.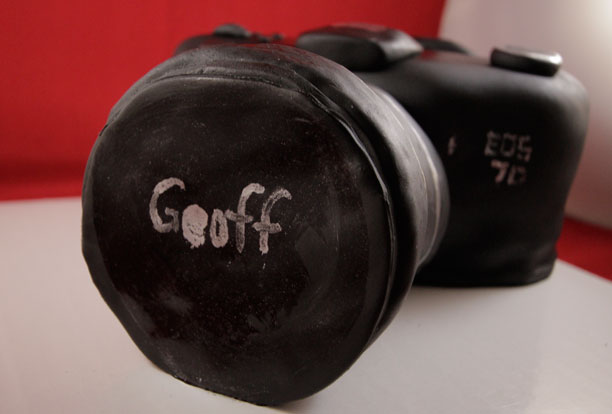 Everyone loved the cake and it was a big hit.  It served about 10 slices.
This is my fav 🙂
Tags: birthday, camera, canon, fondant, geoff, husband


Categorised in: Cake of the Week

This post was written by marissa